Website Re-Design
Company's are constantly evolving and making things better. Re-designing websites is how Go Web Works first got into the business.   Does your site need an update?
When you redesign, you reassess and improve.
Think it's time for a change?
Chances are, if your website was created more than 3 years ago, it is due for an updating. Even websites that are created today aren't always done according to today's standards.
Does your current website reflect your business?
We often find ourselves redesigning websites because the original design had none of the personality of the business it was designed for. Redesign your website and strengthen your brand.
Have any good ideas you'd like to share?
It's always encouraging to work with a new client who has their mind set on what their redesign needs - this is a sign you are ready for a change. We'll also think up some new ideas for you too.
If re-design is on your mind, we're here to help.
We are always taking over old websites from companies who have hit a dead end with their current designer or have simply lost touch with them.
Our job is to then educate you on the current state of the industry and bring you up to speed on what we do, how we work, and what can be done to overhaul your company's website and make it work.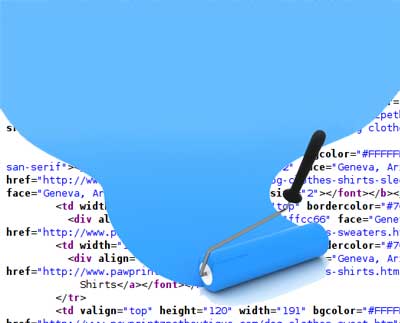 There are a lot of good businesses with bad web designs - and even worse coding behind them. We 'hand-code' your website and don't rely on cookie-cutter drag-and-drops or template-based 'spagetti-code' systems.