Search Optimization
It's the always hot topic for business owners.  Search Engine Optimization (SEO) is no secret, but it is both and 'art' and 'science'.
We'll explain what works and what doesn't - simple as that.
SEO isn't achieved overnight - it takes time.
Want to be found online? Listen to what works...
We follow only the legitimate, 'White Hat' techniques. This leads to better rankings in the major search engines such as Yahoo!, Google, and Bing. Rankings grow over time, the right way.
Why you can't pay us to, "Be #1 on Google"...
Our services don't offer delusions. However, we do provide true and genuine SEO/SEM services that are indeed aimed at ranking your website as high as possible in the various search engines.
"Soooo...does that mean I can get to #1 still?"
It means that there is simply no way to be in control of the search engine results pages (SERPs). Together, we can do everything recommended by them, but ultimately it's a constant competition.
Start with SEO in mind, and you'll finish better.
Because every website owner wants more people to visit their site, we like to start every new client meeting with questions like, "Who is your target customer?", and "How are people going to search for your business?"
These questions are the boilerplate for modern website design. If you're ready to answer these questions then let's work!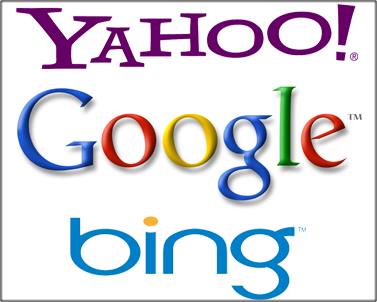 The major search engines drive the majority of traffic to websites. 'Search Engine Optimization' is achieved when you hard-code all the various aspects of your website to the recommendations set out by the search engines themselves.
Follow all the guidelines and use the right tools.
Not surprisingly, the major search engines want to find your website. They actually make sure to re-index it from time to time. Their business goal is to connect their users with the best websites for their searches. We properly set up your Google Places listing and all other search engine recommendations.
So if you have the "best karate dojo in Smalltown, IL" - you should search engine optimize your website for that exact key-phrase.
Search results is always changing - but if you stick to good SEO/SEM principles, your website will remain relevant and work to achieve upside rankings.