Site Analytics
Who comes to your website? How do they find it? Do you know how many visits you get on a monthly basis? Install Analytics and get all these answers & more.
Learn from your visitors and you'll see what works.
Track every movement across your website.
Detailed website reporting gives you insight from the specific statistics gained through tracking code. Use this knowledge to better your marketing efforts and improve on existing campaigns.
Fine tune your website and increase conversions.
Analytics let's you 'see' what pages your visitors enter and exit from, which pages don't get visited, and which ones that are viewed most often. This essential data should never be overlooked.
What questions does Analytics help answer?
Which marketing initiatives are most effective?
Where are my visitors coming from?
What do visitors then do on my site?
Which keywords are leading to conversions?
Which online ad or creative is the most effective?
What site content are people most interested in?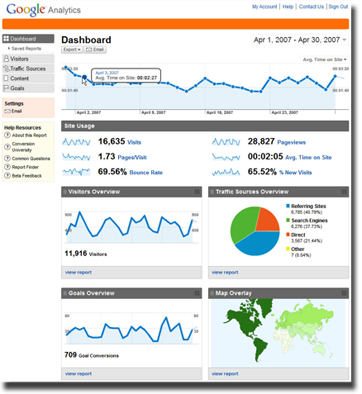 The Google Analytics Dashboard gives you a 'bird's eye view' of your website's visitors. Use this data to help track marketing efforts and understand more about your site's viewers.
Google Analytics setup & management.

Have Analytics installed on your site by a Google Analytics Qualified Individual. With this tracking info installed, you can see the effectiveness of your current website before you make a website re-design.