Pay-Per-Click
Go Web Works offers services for both the initial setup and ongoing maintenance/adjustments for Google's AdWords Pay-Per-Click Advertising. We're a local New York Google AdWords Certified Partner
Pay-Per-Click is POWERFUL ADVERTISING.
You pay only when you get a visitor to your site!
From an advertising perspective, this is revolutionary. Your advertising link reaches a potential customer at the exact moment they are looking for your product or service - you only pay for clicks!
Create multiple ads, and track the results.
Once you understand the system, you can put good money towards gaining more visitations to your site. Having a compelling site is the other half, but Go Web Works helps you with Web Design too.
This sounds good, but is it right for me?
Some businesses are great candidates for Pay-Per-Click (PPC) while others might not get as much benefit. If you are a business looking for customers to find you online, then it's for you.  We can even get you started with a FREE $100 AdWords Credit (new customers only).
Work with web experts - you get expert web work.
There are many who have set up AdWords on their own - without fully understanding how the system works. When you contract with Go Web Works, you are teamed up experienced professionals. We most often uncover miss-spending and under-utilized campaign optimization as the key mistakes from do-it-yourselfers.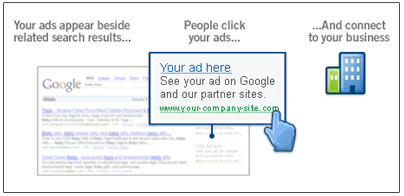 Users of Google's AdWords set their own ad-spend budget, create their own ads and control for which keywords and key-phrases their ads will appear. Everything is based upon a Quality Score and Google rewards those who tie effective ads to excellent websites.
Google AdWords Campaign Setup & Management.

Contract your company's PPC campaigning with the team at Go Web Works - you'll be glad you did from the start. From our experience, we will bring you up to speed on what works in regard to ad creation, content networks, and a host of other factors that relate to this very special niche marketing. We also track conversions, ad spend, and make campaign adjustments in accordance with the data that's collected.
Pair both Google's AdWords and Analytics
By installing Analytics tracking software on your website, you'll immediately start mining data from your sites' visitors. This info can be used to better your AdWords campaigns - which leads to stronger conversions and clicks.